About Us
Rotary is a worldwide network of inspired individuals who translate their passions into relevant social causes to change lives in communities. We build lifelong relationships. We honor our commitments. We connect diverse perspectives. We apply our leadership and expertise to solve social issues. We unite and take action to create lasting change – across the globe, in our communities, and in ourselves.
Made up of over 34,000 Rotary clubs around the world, Rotary International forms a global network of business, professional, and community leaders who volunteer their time and talents to serve communities locally and around the world – and form strong, lasting friendships in the process.
Our motto - Service Above Self - exemplifies the humanitarian spirit of the 1.2 million Rotarians worldwide .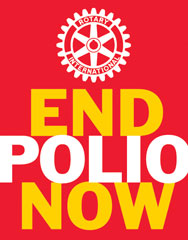 Rotary brings together leaders who step up to take on the world's toughest challenges, locally and globally. The eradication of polio is one of our longest standing and most significant efforts. Along with our partners, we have helped immunize more than 2.5 billion children against polio in 122 countries. We have reduced polio cases by 99.9 percent worldwide and we won't stop until we end the disease for good. Click here for more information on the campaign to End Polio Now.